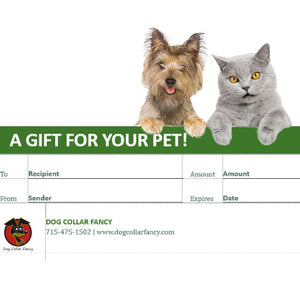 Dog Collar Fancy Gift Certificate
Give the gift of love with a Gift Certificate!
When you want to give a special gift to a friend or family members pet, and you don't know their sizing, let them choose for themselves! Our gift certificates are perfect for the pet lovers in your life. They'll thank you!
Choose to have it sent postal mail or by email (postal mail option must be within the USA). Email is perfect for those last minute gift giving ideas.